Finding accommodation in New York City can be tricky, considering how many hotels and neighbourhoods there are to choose from. From cheap hostels and hotels to Airbnbs, it can become overwhelming deciding where to stay.
The best thing to do is to figure out your neighbourhood of choice first, then explore your options from there, so let's look at some of our picks for the best places to stay in NYC.
Williamsburg
Williamsburg, in Brooklyn, is home to hip restaurants, bars, clothing stores and coffee shops, and is very close to Manhattan while still being relatively cheap. A great place to stay that won't break the bank is the Pointe Plaza Hotel, a luxury hotel for a budget price. The rooms are spacious suites, and the staff are very friendly.
East Village
The nightlife of Manhattan's East Village can't be beaten! The cocktail lounges and speakeasies are a lot of fun with plenty of karaoke bars in a central and affordable area. Be sure to stay in public areas, you don't want to get hassled by any pesky rats!
The East Village Hotel offers studio apartments with kitchenettes and is walking distance to a range of things you'll likely want to check out, so party animals should definitely choose this area.
West Village
The West Village is where celebrities and other wealthy people frequent. As a result, there are a lot of upscale restaurants and boutiques, and this is one of the quieter areas in New York. It's also fantastic for people-watching and star-spotting.
The Marlton is a restored boutique hotel with a great cocktail bar, however it is a little more expensive and luxurious to suit the area.
Chelsea
Chelsea offers art galleries, flea markets and antique shops, as well as High Line for a bit of greenery. It's also home to a large LGBT community.
The Heritage Hotel New York City is relatively affordable and very comfortable with air conditioning, flat-screen TVs and free WiFi. There's even a 24-hour gym so you can work off all those bagels.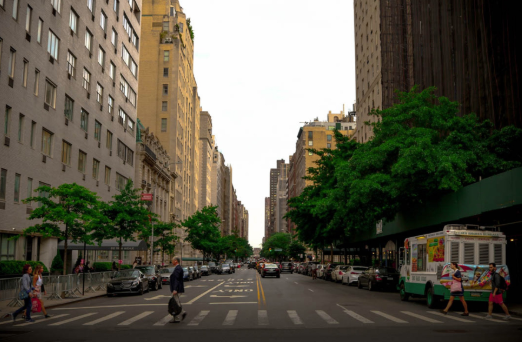 The Upper West Side
The Upper West Side is one of the more expensive parts of New York, and is home to the American Museum of Natural History. It's also very close to Central Park, with plenty of shopping and nightlife options.
The Royal Park Hotel & Hostel is very close to Times Square, offering simple rooms, free WiFi and air conditioning to keep you comfortable.
Whether you're doing New York on a budget or splashing out, a party animal or a shopaholic, we've gathered the best places for you to stay when you're in New York, and we hope you love visiting the Big Apple!